2022 Comprehensive Guide
Tenant Screening Best Practices & Technology for Property Managers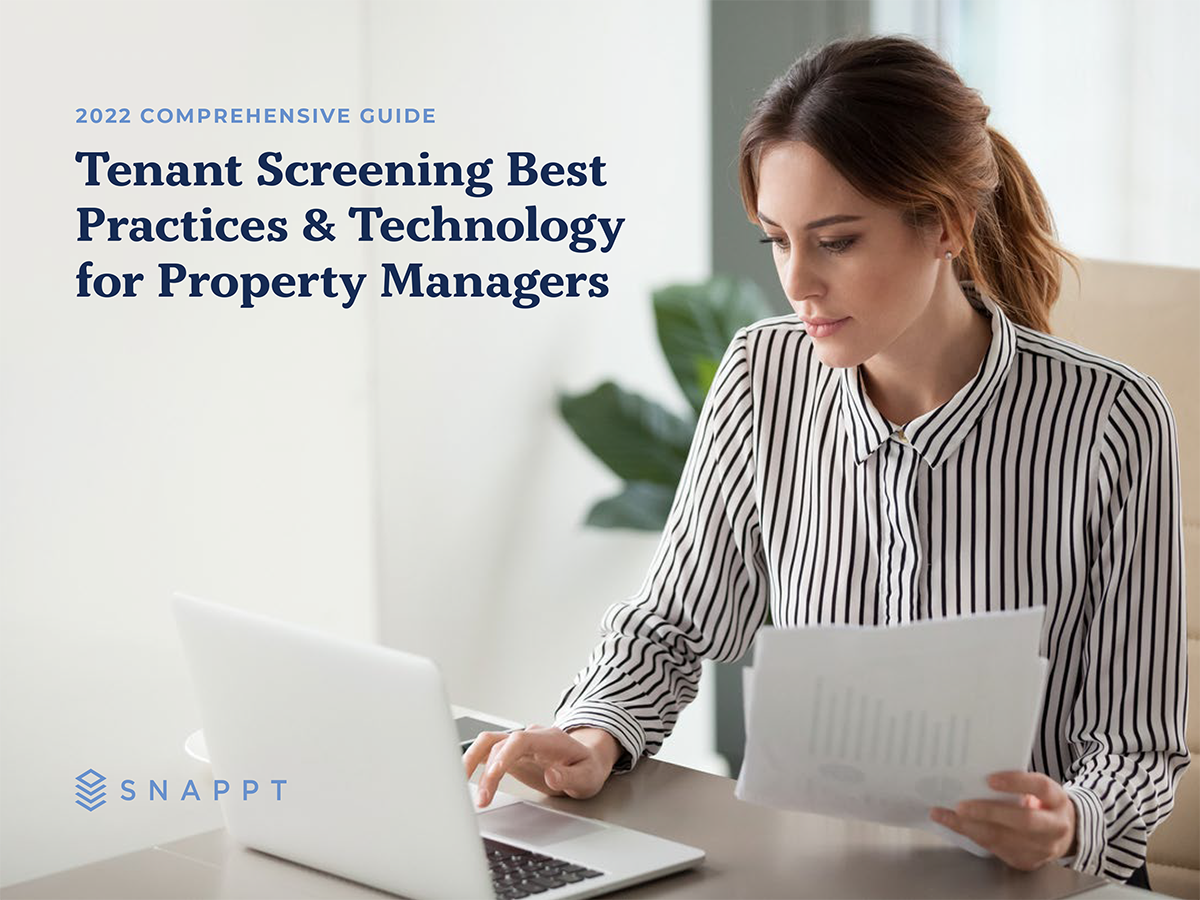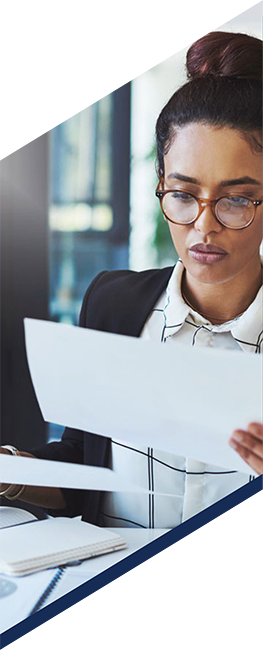 Introduction
The property management industry has been plagued by an astronomical rise in fraudulent activity over the past two years. Due in large part to the pandemic, as well as the acceleration of digitalization and sophisticated technology, most property managers are feeling the impact of the rapid increase in fraudulent tenant applications. Seemingly anyone with a computer and Adobe Acrobat can distort and manipulate documents to either embellish or hide personal data in order to gain application acceptance.
Tenant screening has always been a significant part of the leasing process, but given the staggering elevation of fraudulent tactics, the screening process can no longer rely on manual detective work or intuition. With the increase in self-employment, online rental applications, and the proliferation of tools that aid and abet falsifications, property managers must up their game in the tenant screening process. The days of relying solely on manual follow-up of tenant application data are over. No matter how intrepid the investigator, it is simply too time consuming, inaccurate, and incomplete.
We have compiled our 2022 comprehensive guide to illuminate the challenges faced by today's property managers and examine the steps that comprise best practices for the property management industry. We will highlight the advancement of innovative tools in the marketplace that will empower you to make choices to enable you to gain footage against the rising tide of application fraud.
The Importance of Meticulous Tenant Screening
Why is the tenant screening process so crucial? Because your personal livelihood, reputation, and bottom line depend on choosing the right tenants. A successful screening process can bring rewards to property managers.
The process for screening rental applicants is challenging, and property managers are faced with numerous hurdles. It can be expensive—purchased reports may contain inaccuracies and are often a waste of time and money. Additionally, compliance issues and the need to be aware of FHA violation criteria can somewhat limit the power you have in the selection process. There can be devastating repercussions for bad tenants who slip through the cracks. Evictions can cost as much as $7,685 each or an annual rate of 12%. Thousands of dollars can be lost to property damage repairs and tenants who skip out with months of rental payment in arrears. Your trustworthy tenants may leave if there is disruptive or criminal activity, leaving costly vacancies.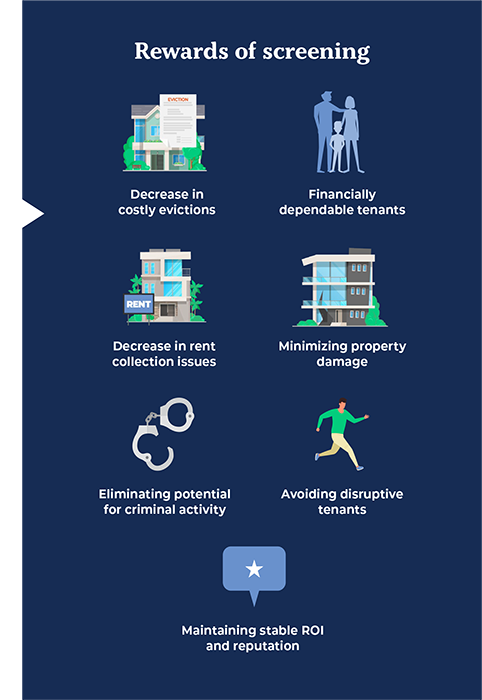 The Application of Standardized Best Practices
Online tools enable easy and creative falsification methods. They require a multi-pronged approach utilizing best practices and intuitive tools to level the playing field and empower you with greater control over the narrative. Effective property management requires attaining the best applicants, which can be achieved by knowing and applying the standards of industry best practices in a consistent manner across the board.
Every applicant should undergo evaluation in these areas that provide a roadmap to discerning the validity of potential renters and optimizing the decision-making process. We will examine each area to aid in crafting a consistent and streamlined approach to tenant screening that will save time and avoid trouble down the road.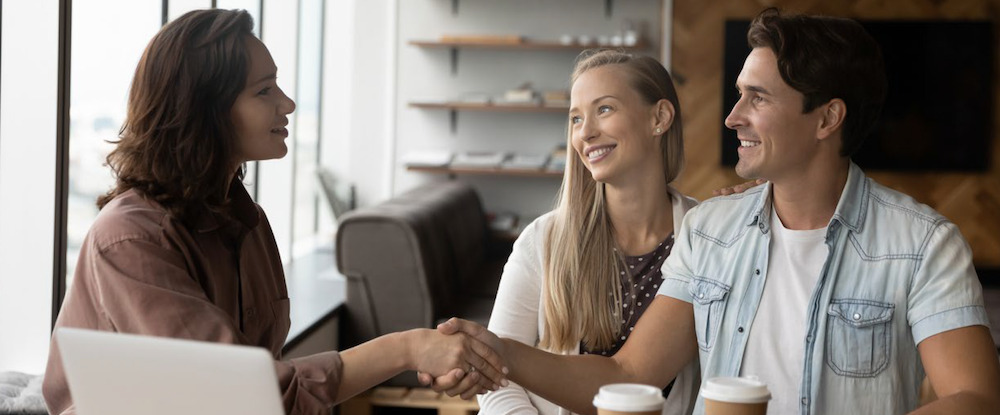 7 Standard Best Screening Practices
Pre-screen Applicants – An important first step in the screening process should involve creating your rental criteria and making sure all applicants are aware of these standards via your application and property advertisements. Commonly imposed policies include no smoking, no pets (except for certified service animals), income that is 3x the rental fee, a minimum credit score of 650, and criminal background checks on all applicants. You can create your own shortlist, but always ensure that your requests and personal questions do not violate FHA and HUD regulations.
By setting forth clear standards, you can often weed out the unqualified and save time and effort. The first call is all-important as well, as it can reinforce standards and allow you to ask basic questions and hear what factors the applicant places emphasis on. Based on that initial impression, if favorable, you can request an application.
Request for Application – Most applications are now completed online and include personal information, such as full name, address, employer, references, and previous rental history of the past 5 years. The application must clearly state your intention to run a credit check and criminal background check and to contact their current employer. Many property managers apply a fee of $40–50 upon acceptance of the application to pay for these screening checks. This often ensures that the most serious and reputable applicants will proceed. By setting a time limit for application completion, usually within 48 hours, you motivate serious contenders and possibly thwart those who need time to distort and manipulate information.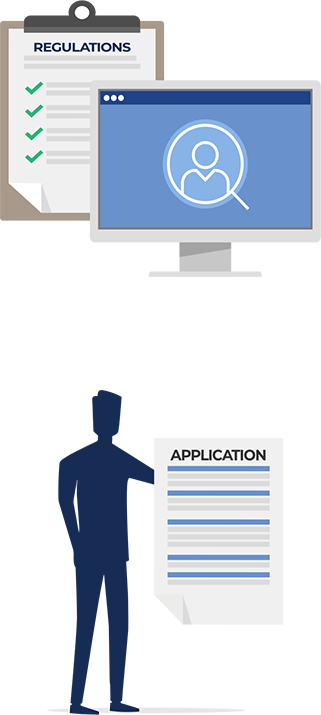 Check References and Rental History – If you are an experienced property manager, you know that references can be fabricated just as easily as documents. However, this can provide crucial information regarding the behaviors of potential renters. If possible, strive to attain at least 5 years of rental history. In order to check the validity of an applicant's rental history, first, verify the property owners via public records. When calling the current or past landlords, ask for the dates of the renter's occupancy. If this causes confusion or a delayed response, or does not jive with the application data, those are obvious red flags. If you discern that they are legitimate, asking specific questions is important.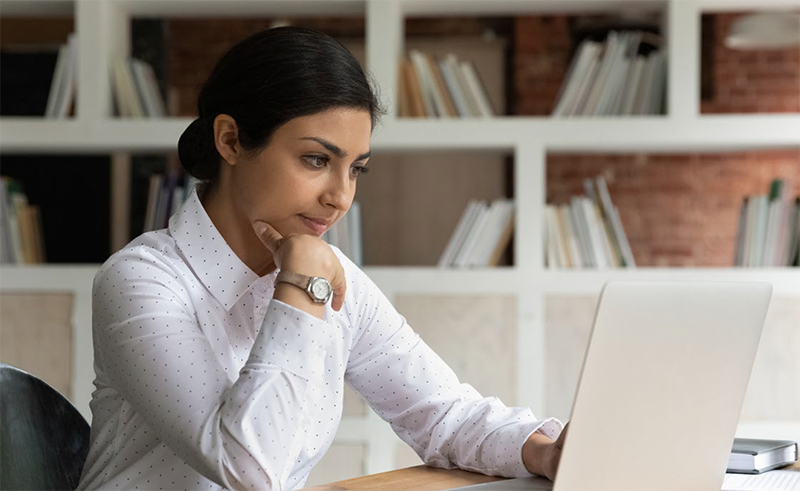 ID Verification – You need to be assured that you really Know Your Applicant, since ID fraud is so rampant. While digital capabilities have enabled greater degrees of fraudulent activity, the proliferation of automated intuitive tools has also empowered the property management industry to fight back with greater fraud detection weapons. It can be difficult to spot fabrication in this area. Applicants could use the names of missing persons, the deceased, and minors, combined with fraudulent social security numbers and other stolen data. It can be time consuming and difficult to track and verify them.
There are companies specializing in automated AI-powered ID verification software that conducts data analytics of multiple layers of identity attributes across thousands of data sources within minutes. Various products can detect anomalies in addresses and email sources, manipulations in photo IDs, and more. These software products can render an overall risk score that will enable you to make a quick and confident decision about the validity of an applicant. Integrating your screening process with automated software will greatly reduce the number of fake applicants escaping detection.
Employment and Income Verification – It is a wise practice to look up the listed employer online to verify the business and call the number listed there if different from the one on the application. Most employers will provide the requested information, but some businesses have a policy regarding the release of private data and are not obligated to answer beyond validating that the person is a current employee. If cooperative, ask for the title of the person you are talking to, as many applicants will list a work buddy to provide a glowing and possibly embellished reference. It is wise to speak with Human Resources, if possible, to ask about the applicant's current pay rate, whether they work full or part-time, how long they have been employed, and if the applicant will remain in their employ. While you can request copies of pay stubs and bank statements, unfortunately, these are often the source of document fraud. It is relatively easy to alter data online, which can easily be missed by simple manual scrutiny. We will discuss technology that can detect document fraud separately in our guide.
Criminal Background Check – What if your applicant's identity checks out, but there are red flags in their background that would disqualify them as a rental candidate? According to FHA and HUD regulations, you cannot put a blanket ban on applicants with an arrest or criminal record, and doing so may lead to legal ramifications. Every property manager should be well-versed in current regulations and mindful of changes and modifications. Many software products use algorithms to calibrate risk scores based on available data. While they are an important tool in your arsenal, the data must be used within the guidelines so as not to discredit or discard a viable candidate. Automated tenant screening solutions can provide you with significant data pertaining to past criminal activity from millions of state and national criminal databases within minutes instead of days, allowing you to make quick decisions. You can judiciously weigh the results to eliminate candidates who have committed violent crimes, serious felonies reflecting financial fraud like larceny, crimes related to drug manufacturing, property crimes like burglary or arson, and sex offenders.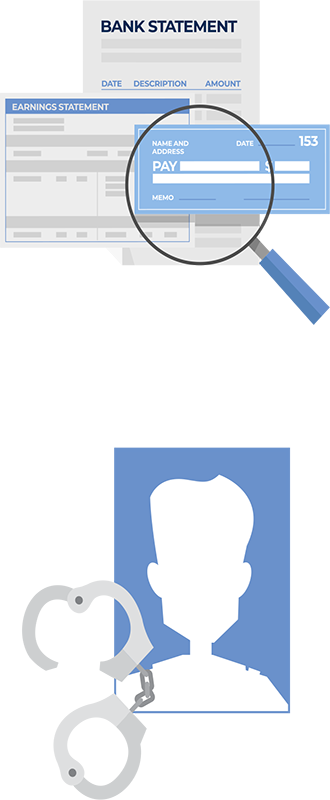 Credit Check and Prior Eviction – While great emphasis has been placed on credit scores, a comprehensive credit report will give you the full picture of an applicant's financial background. It will reveal loan and payment histories, overdrafts, debt collections, current debt loads, and more. Some property management solutions simply provide management workflows, while others are all-in-one, integrating all screening categories as well. Access to data from all three credit bureaus—Experian, Equifax, and TransUnion—can be at your fingertips to deliver fast and comprehensive reports. If your applicant falls below your established criteria, but other factors show a favorable pattern, they still might be considered a worthy candidate.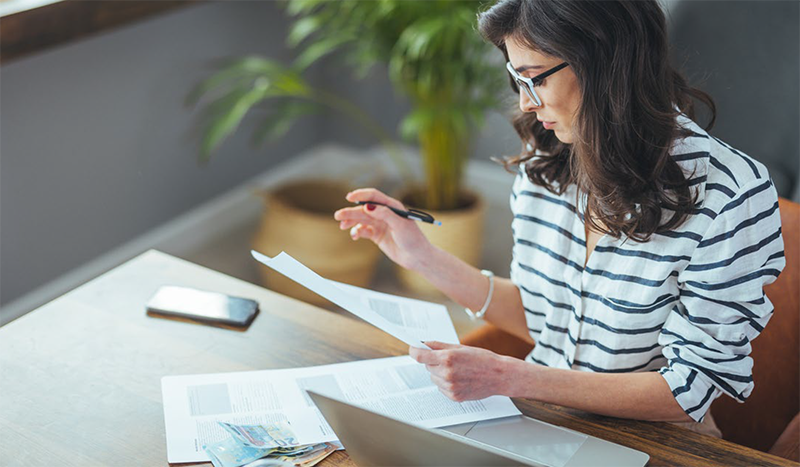 Application and Document Fraud Detection
Applications containing false or manipulated information continue to rise in number and sophistication. One in eight rental applications contains some form of fraud, with 85% of property managers in 2021 experiencing frequent falsification of application data and a subsequent rise in eviction rates. Most automated software tools that can conduct the varied screening essentials fail to spot altered documents or allow too many to pass through.
There are four types of document fraud that can easily be overlooked manually or by many software screening tools:
the use of the wrong font for a particular document
the use of a different application from what the document would normally use
the shifting of values to make it look like the applicant earned more money
altering dates to extend the duration of employment or length of higher salary histories
It is all too easy for applicants to make subtle changes online to bank statements, pay stubs, and W-2s. To the naked eye, these documents look legitimate. For this very reason, there is sophisticated technology available that employs forensic analysis on all documents submitted to discover discrepancies. Image analysis and data-driven algorithms in tandem with reviews against authentic historical document databases can identify micro-anomalies.

Tenant Screening and Property Management Solutions
While there are many automated tenant screening tools in the marketplace, they can vary in capabilities and scale. Some solutions integrate and streamline every facet of the property management lifecycle, from screening to acceptance, and all transactions with a renter until they vacate. For individual property owners to large property management companies, these technologies are game- changers that streamline daily efficiencies, facilitate easy and consistent communication, and provide quick payment collection and transfers. Properties and vacancies can be posted online, and all required documents can be initiated expeditiously.
There are software applications available with more limited specificity that focus on one or several screening categories, like ID verification or credit checks. Many of these can be integrated with your established property management process and workflow.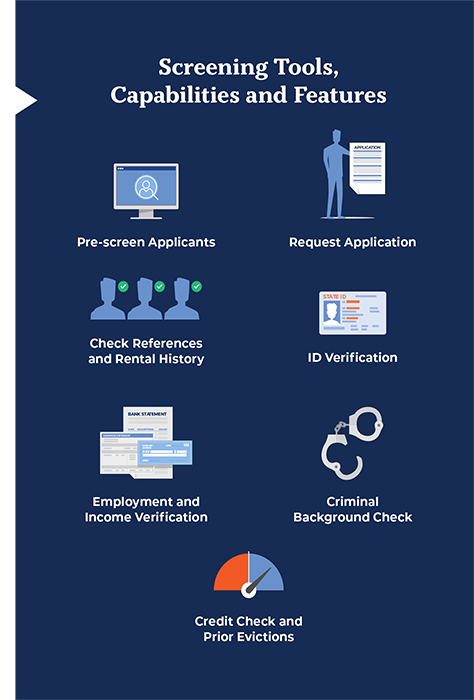 Conclusion
The most important first step for all property managers, large and small, is to adopt a standardized and consistent tenant screening process utilizing recognized best practices and digital technologies that create efficiencies and eliminate the risk and frequency of fraud. Screening all applications in the same efficient and expedient manner saves valuable time and resources, cuts costs, and decreases eviction rates, leading to a greater ROI. Partnering with the right technology will give you the upper hand and greater control.