You are reading: The Snappt Effect
The Snappt Effect

Daniel Berlind
CEO
I came across some fascinating research the other day. A University of North Carolina study surveyed 422 randomly-selected incarcerated male and female burglars. There are a lot of interesting findings, but the one that captured my attention was this: A sign posted outside the residence was the third biggest deterrent to burglars. That beats a police officer being nearby, people inside the house, and actually having an alarm!
Call it the "ADT Effect."
That got me thinking. Is there such a thing in rental application fraud? That's where potential renters looking to qualify for an apartment lease submit fake paystubs or bank statements to the property manager so they can be eligible. We've scanned several million applicants to date, so I wondered if the answer or red flags could be found inside our own data.
Is There an ADT Effect in Rental Application Fraud?
My hunch was that there would be an ADT effect. To confirm this, my research team created a table of all of our clients and management companies (nearly 3,000 properties in the US) that included the tenant fraud rate we saw over time:
Initial fraud rate (month 1)
After three months had passed (month 4)
The renter fraud rate, by the way, is the percentage of potential tenants who attempted a rental scam by submitting falsified financial documents (pay stubs and bank statements). Many properties use Snappt because we have a 99.8% accuracy rate – we essentially spot all application fraud for our clients.
It turns out my hunch was correct.  Look at the data: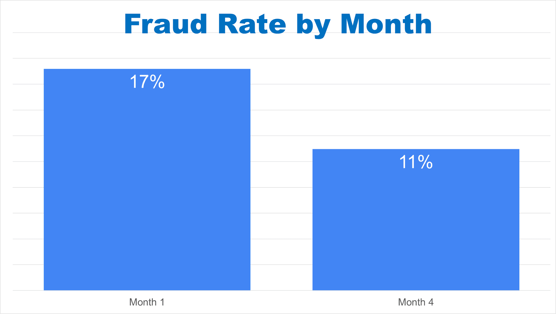 Think of it – when a typical client first signs up with Snappt, they see one in six applicants trying to defraud the rental property!  We catch every one of those, of course. But in addition, the rate drops to one in nine within three months. That's a 35% drop!
Why? The only thing that's changed is that the property owner now uses Snappt. The bad guys know they cannot evade Snappt's cutting-edge forensics, so they move down the road to another property that doesn't use Snappt.
And with post-pandemic numbers showing that 85% of rental property managers are saying that fraudsters have targeted their rental listings, it's time to take action. You don't want those applicants slipping through the screening process all the way to move in. That scenario leads us to the all too familiar end – eviction.
The Snappt Effect
I could call this the ADT Effect, but what would be the fun in that? We found it. We're causing it, so we can name it.  We'll call it the Snappt Effect.  And, by the way, we see the same fraud rate (11%) after one full year (in month 13), so the Snappt Effect is persistent.
The bottom line is this: Snappt will catch every fake pay stub or bank statement. But – as a bonus – you'll see one-third fewer scammers trying to defraud you.
Thank you, Snappt Effect!